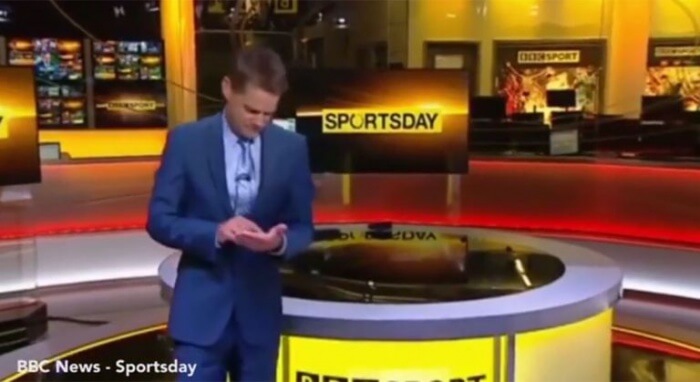 If you're a television reporter and you're signing off at the end of a live broadcast by looking at your iPad, it really helps if you actually have one in your hand.
If you don't, then you might end up looking at bit like the BBC's Chris Mitchell, who for some reason ended up in a situation where he was signing off from his report on BBC News report on Sportsday which is a regular sports and news programme on the BBC News channel.  Chris was seemingly tapping on a phone or iPad in his hand  – but in fact he was tapping on his own hand instead, since wasn't holding anything.  Odd.
This didn't go unnoticed by viewers, with many tweeting Chris about the gaffe.  Chris responded by tweeting 'It's time to break free #shufflingpapers'
It's time to break free… #shufflingpapers https://t.co/6LQazXsKFv

— Chris Mitchell (@chrismbbcsport) August 1, 2015
Other viewers tweeted back to remind fans of that infamous moment when news presenter Simon McCoy went on air holding a pack of printer paper instead of his own tablet device, with one viewer tweeting: 'I think Chris is the new king of the BBC iPad fakers.'
Simon claimed he had picked the printing paper up by mistake instead of his iPad.  Rather awkward we'd say.  Strange things happen at the BBC !