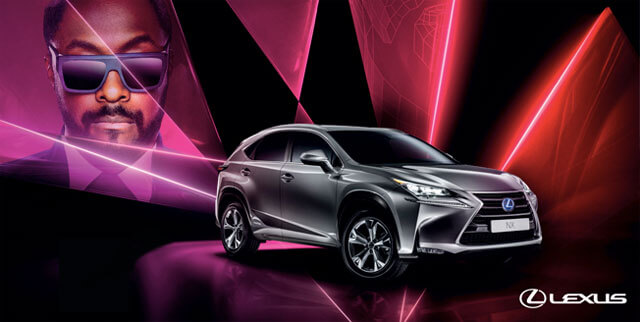 will.i.am has just done something we didn't expect. Well that's pretty normal for him, so maybe we did expect it.  The Black Eyed Peas and TV show 'The Voice UK' star has been busy, making music by using a car, and lasers.
The action took place on a disused runway in Spain, where will.i.am and 3 stunt drivers navigated the world's biggest musical stave with new Lexus NX cars to make the tune. The sound played out as if it were a game on your iPad or tablet.
All this happened during the hours of darkness, using a rave style mixture of lasers ato create the music as long as the Lexus NX cars used hit the sensor at exactly the right time.
In excess of 350 projected mapped motion and audio sensitive lasers and lights were set up up as will.i.am and his stunt drivers battled against speed and rhythm to conduct and navigate a the three Lexus NXs', hitting the laser targets at the correct tempo to synchronise with the smash hit tune.
It was an immense sound-road race against time to complete the challenge in the limited hours of darkness available before the sun came up.
will.i.am said: said: 'Working with the stunt guys to hit the laser targets in time with the music wasn't easy to get right but the result was awesome. The combination of technology, design and music in this project was out of this world.'
Over 65 engineers worked for over a week to set up the rig for the lights and motion sensitive lasers, which were designed by world-renowned light artists, Marshmallow Laser Feast who have previously worked with other artists such as Coldplay and U2.
Built around bespoke software that too nearly 2 weeks to develop, the bright lights were visible from around 10 miles away, with a further 10 long-throw lasers were used to mark out the staves.
"We've created a huge musical game with three stunt drivers as the players and will.i.am as the conductor," MLF Creative Director, Barnaby Steel said whilst explaining the project.
"Music is created when the cars trigger notes and samples by hitting beams of light that are motion sensitive. It's basically like a giant laser harp with cars instead of fingers."