---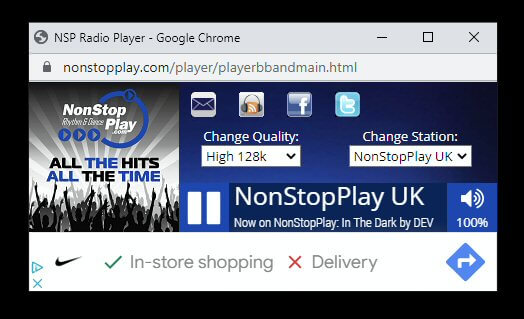 ---
NonStopPlay is a popular online radio station that has a wide range of music, including pop, upbeat rock, R&B, and dance. The station is known for its diverse selection of music and its commitment to playing only the best tracks. If you are a fan of NonStopPlay and want to listen to the station on your computer, it is easy to do so.
One way to listen to NonStopPlay on your computer is to use our web player. This will stream the station's music and programming directly from your browser. Simply click on "Web Player" button above to start listening.
Overall, listening to NonStopPlay on your computer is a convenient and easy way to enjoy your favorite music. Whether you are at home, at work, or on the go, you can use your computer to tune in to NonStopPlay and discover new artists and tracks.
---
Download our free iPhone and Android apps so that you can listen on your smartphone.


---
Listen on your iPhone, Android smartphone or tablet.  Download the TuneIn App for Android on Google Play, or via the iTunes App Store for your Apple iPhone, iPad or iPod Touch.  Find out more on how to listen on your phone or tablet.
You can also hear us online via your computer's iTunes player software in the internet radio library.  Just head for the "internet" section and we can be found under the Electronica & Top 40 / Pop music genres.