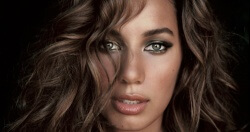 Lenona Lewis the 2006 X factor winner is normally best know for belting out her power ballads has changed track entirely for the moment and is now promoting her new upbeat dance track.
The new track titled 'Another Love Song' is a fusion of elements of house, garage and pop.
'Another Love Song' is one of the more upbeat tracks on the new album 'I Am' which will be released on the 11th September.
Leona is at the moment in North America where she is promoting the US release of her 5th studio album, as well as giving exposure to her US single "Thunder" to radio stations in the US.
'I Am' is Leona's first album on Island Records since leaving Simon Cowell's Syco label last year.